Borderline by Mishell Baker
Each Friday, I intend to highlight a book I've recently enjoyed and want to share with you. I figure that a Friday is the best time to do this as you'll have the whole weekend to really get into it.
A note on the links: they're affiliate links in some cases, which means that if you click on them and then buy the book, I might get a small commission. In any case the price you pay does not vary, I don't get to know who bought what, and none of your personal data is shared with me.
And none of the recommendations are paid for: these are all books which I personally have bought, enjoyed and want to share - no-one is asking me to do this.
This week the book I want to share with you is Borderline by Mishell Baker. While it is part of another three-part series, I've only read the first one so far - but the other two are certainly on my 'to be read' list. The reason I've picked this is that it does have certain similarities to the book I am currently writing, and yet again it does some excellent world-building and character creation.
From the synopsis:
A year ago, Millie lost her legs and her filmmaking career in a failed suicide attempt. Just when she's sure the credits have rolled on her life story, she gets a second chance with the Arcadia Project: a secret organization that polices the traffic to and from a parallel reality filled with creatures straight out of myth and fairy tales.

For her first assignment, Millie is tasked with tracking down a missing movie star who also happens to be a nobleman of the Seelie Court. To find him, she'll have to smooth-talk Hollywood power players and uncover the surreal and sometimes terrifying truth behind the glamour of Tinseltown. But stronger forces than just her inner demons are sabotaging her progress, and if she fails to unravel the conspiracy behind the noble's disappearance, not only will she be out on the streets, but the shattering of a centuries-old peace could spark an all-out war between worlds.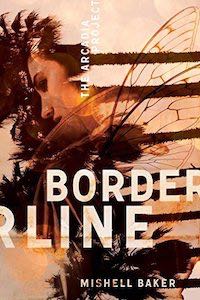 Clearly it's a dark story from the get-go. The title Borderline refers to both the protagonist's own Borderline Personality Disorder, and the boundary between our world and Arcadia - the Fairyland of myths and legends. When we first meet Millie she's in a mental institution, trying to come to grips with her illness and her two new prosthetic legs - and failing. We don't learn much about her from the get-go, her backstory is slowly and painfully revealed through the novel. What we do learn is that she's stronger than she thinks she is, more broken than she realises, and extremely suitable for a very specific sort of job.
She's recruited for a secret project liaising with Arcadia, where the Fae originate. A select few have come over here, and the twist is that the majority are Hollywood stars - either actors or directors. Each of the Fae has an Echo - the human who in other situations might be considered a Soulmate. For actors they tend to be their agent, or producer, but the book at least drops a few hints that everyone has an Echo, and that they're incomplete in some way without them.
The Arcadia Project itself is not quite the 'Men In Black' organisation you might expect from books of this type. For one reason or another the mentally ill are remarkably well suited to this line of work, and so Millie is thrown into a supremely dysfunctional shared house full of people with greater or lesser problems than her own.
So if you're looking for a light-hearted romp through a world where Steven Spielberg is secretly a Wizard, and every other great director has a Fae Echo as their muse, this isn't necessarily the book for you. But that being said, it's not depressing in the least. While the majority of the characters we meet are struggling, and there is murder and mayhem surrounding them on all sides, this is not a book you need to approach carefully. It's a damn good read, the characters are extremely well-rounded and elicit sympathy as quickly as they push each other away. Mental illness is a very tricky subject to discuss at the best of times, and to take it as a defining characteristic of your cast is risky - but Baker does it in such a way that the people we meet are far from two-dimensional, never clichéd. You feel that they are real people, with real problems - maybe deeper-seated than most of us but they're still very much human; this is especially true when compared to the Fae who on the surface are attractive, enthralling and seemingly perfect, but operate on a completely different moral plane.
So yes, I have picked another book which deals with mental illness (see also The Calculating Stars which again is not preachy and takes the illness as just another facet of the character which shapes their decisions and destiny. Which if you ask me is exactly how it should be - it's not a bit of colour to throw at a person to make them 'edgy' or 'interesting', it's a part of the human experience and it's refreshing to see it handled so well.
Click the image of the book to be taken to your store of choice, or use the link below.