Shades of Magic by V.E. Schwab.
Each Friday, I intend to highlight a book I've recently enjoyed and want to share with you. I figure that a Friday is the best time to do this as you'll have the whole weekend to really get into it.
A note on the links: they're affiliate links in some cases, which means that if you click on them and then buy the book, I might get a small commission. In any case the price you pay does not vary, I don't get to know who bought what, and none of your personal data is shared with me.
And none of the recommendations are paid for: these are all books which I personally have bought, enjoyed and want to share - no-one is asking me to do this.
The first book (or rather, series of books) I want to share with you is the Shades of Magic series by V.E. Schwab.
From the synopsis of book one:
Most people only know one London; but what if there were several? Kell is one of the last Travelers—magicians with a rare ability to travel between parallel Londons. There's Grey London, dirty and crowded and without magic, home to the mad king George III. There's Red London, where life and magic are revered. Then, White London, ruled by whoever has murdered their way to the throne. But once upon a time, there was Black London…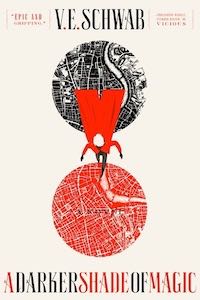 So as you can tell, it's fantasy. There are four parallel Londons, which share very little apart from their name. Years ago people could pass freely between them all, but then the doorways were sealed to all but a select few. One of those is Red London's Kell, who is officially an ambassador and unofficially a smuggler. He runs into Lila, a thief in Grey London (which is our world) and together they have to fight an enemy that threatens all of the worlds.
This series has great characters, a real page-turning plot and some wonderful imagery throughout - I very quickly fell into the worlds that Schwab details so beautifully and immediately bought the second and third books in the series after completing the first.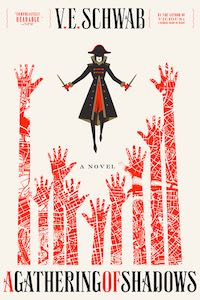 The various Londons all feel unique yet joined, and the worlds they inhabit and link are all detailed and rich also - there are empires and armies, pirates and killers in all of them, examples of the very best and very worst of humanity on all sides. We learn how far people will go to get a taste of magic when it's rare, and how corrupt they can become when it's there for the taking.
The magic systems are also well developed, there are rules that magic has to follow so you never find yourself imagining that a simple spell can just solve everyone's problems. And once those rules are established, we learn that some characters are able to bend them just far enough to be even more dangerous.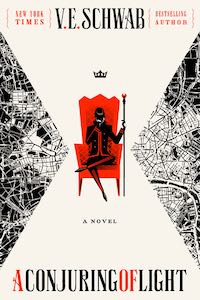 There is even a prequel comic book coming out to tell the story of one of the character's earlier life - but at no point does it feel like the story has been stretched too thin. If anything, three books doesn't seem like quite enough to fully explore this world.
Highly recommended, and reading these books has forced me to raise the bar on my own work-in-progress - once you see things done this well, you certainly won't want to settle for anything less!
Click the images of each book to be taken to your store of choice, or use the links below.
A Darker Shade of Magic (Book 1)
A Gathering Of Shadows (Book 2)